On the Eastern shores of Lake Como and at the mouth of the River Adda, Lecco is blessed with natural beauty. The back drop to this picturesque city is a huge domineering mountain range that surround it, making it a ideal spot if you're into trekking. If you're not, there's plenty to do down on the lake too.
If you're looking for an easier way to get a spectacular view across the region try the cable car up to Piano d'Erna. There's also a cafe restaurant at the top if you're looking to relax and take in the view and also plenty of hiking opportunities.
Down on Lake Como I'd highly recommend taking a boat trip for a different view of Lecco's shoreline, some tiny colourful fishing villages and it's striking bell tower. We took a short trip south down the lake to Abegg, a 17th century silk mill and museum.
Here are my top photo highlights from my visit to Lecco.
Lecco Bell Tower & Monte Resegone
Lecco's beautiful bell tower of the church of San Nicola is set in front of a huge mountain range and is visible from all parts of the city. It's the second highest church bell tower in Italy and offers 360 degree views of the city from it's roof terrace. You need to book in advance if you do want to climb to the top of the tower.
The bell towers domineering backdrop, Monte Resegone mountain, towers over Lecco's roof tops giving the city a photogenic appearances around every corner. Monte Resegone is said to resemble a saw (resegà means "to saw" ) with it's eleven grey jagged summits silhouetting Lecco's skyline. The highest of these summits stretches 1500 metres above the valley and 1875 meters above sea level, making it visible on a clear day from Milan.
The mountain offers a huge range of treks from hikers and climbers with plenty of well maintained routes and Via ferratas, for the more adventurous there's also rock climbing.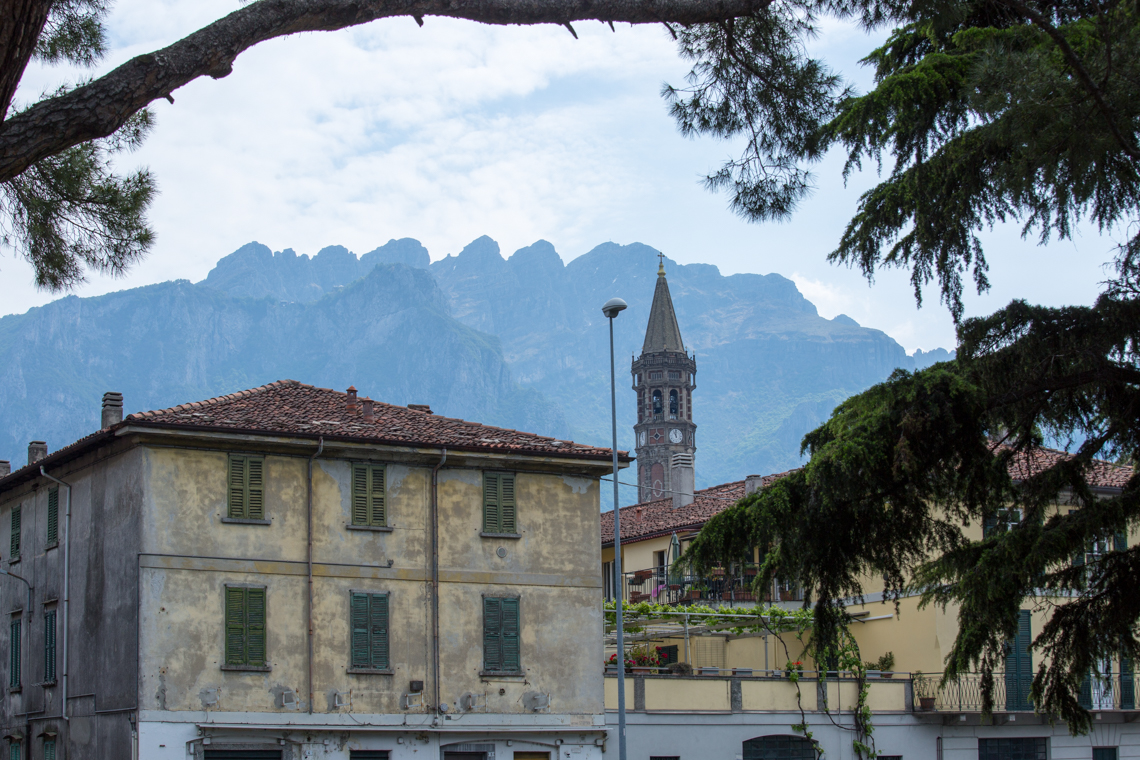 Lecco's Bell Tower in the distance and Monte Resegone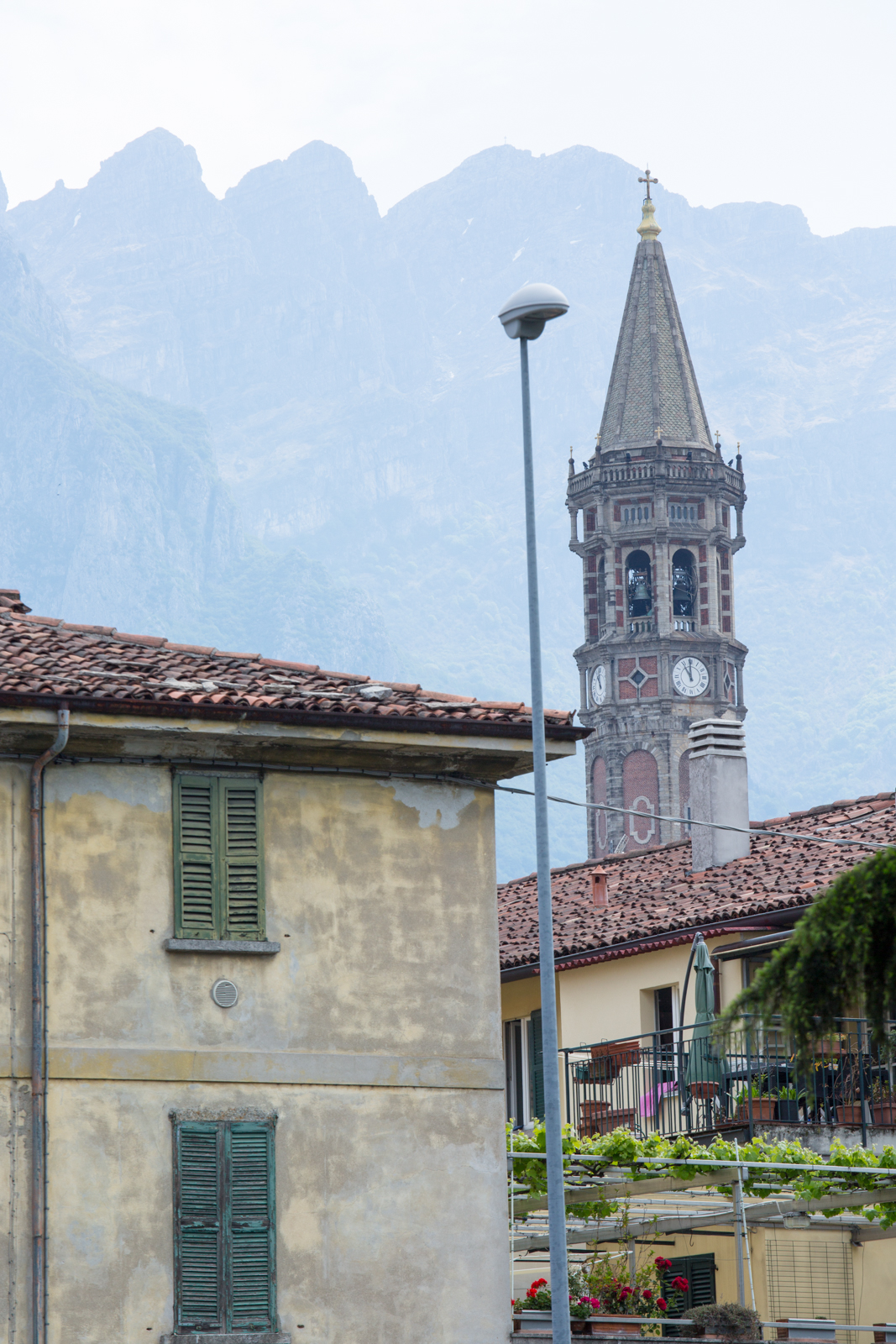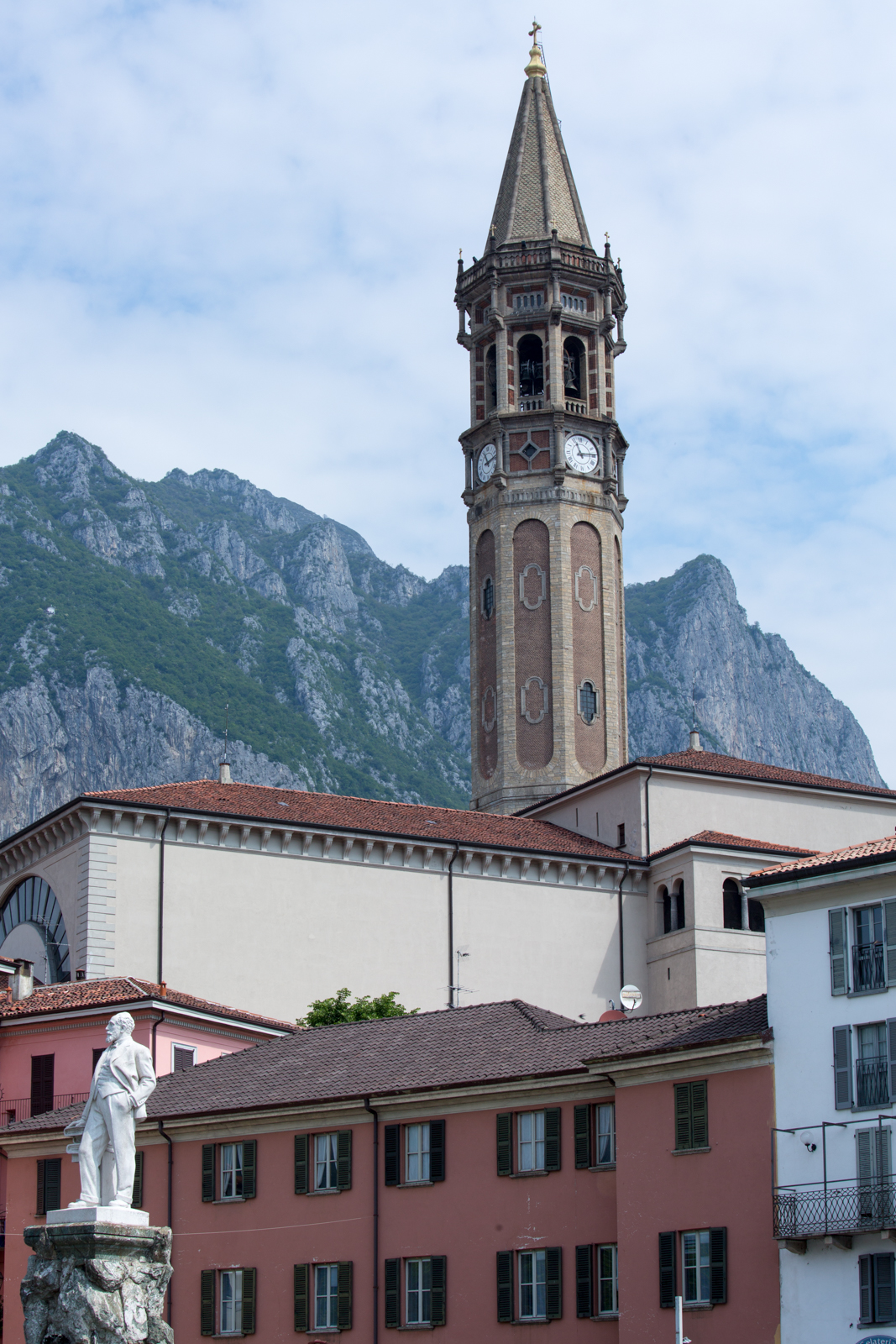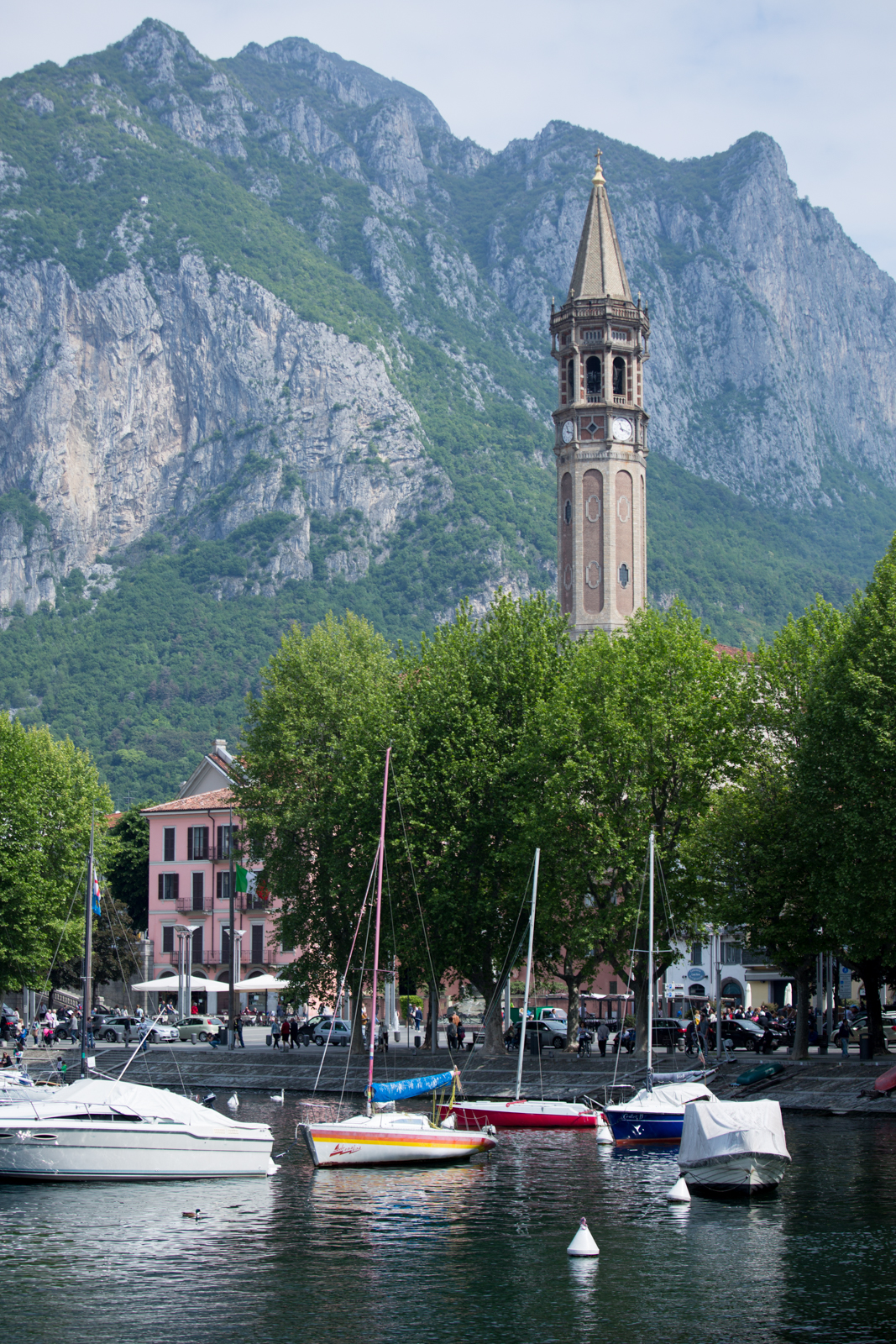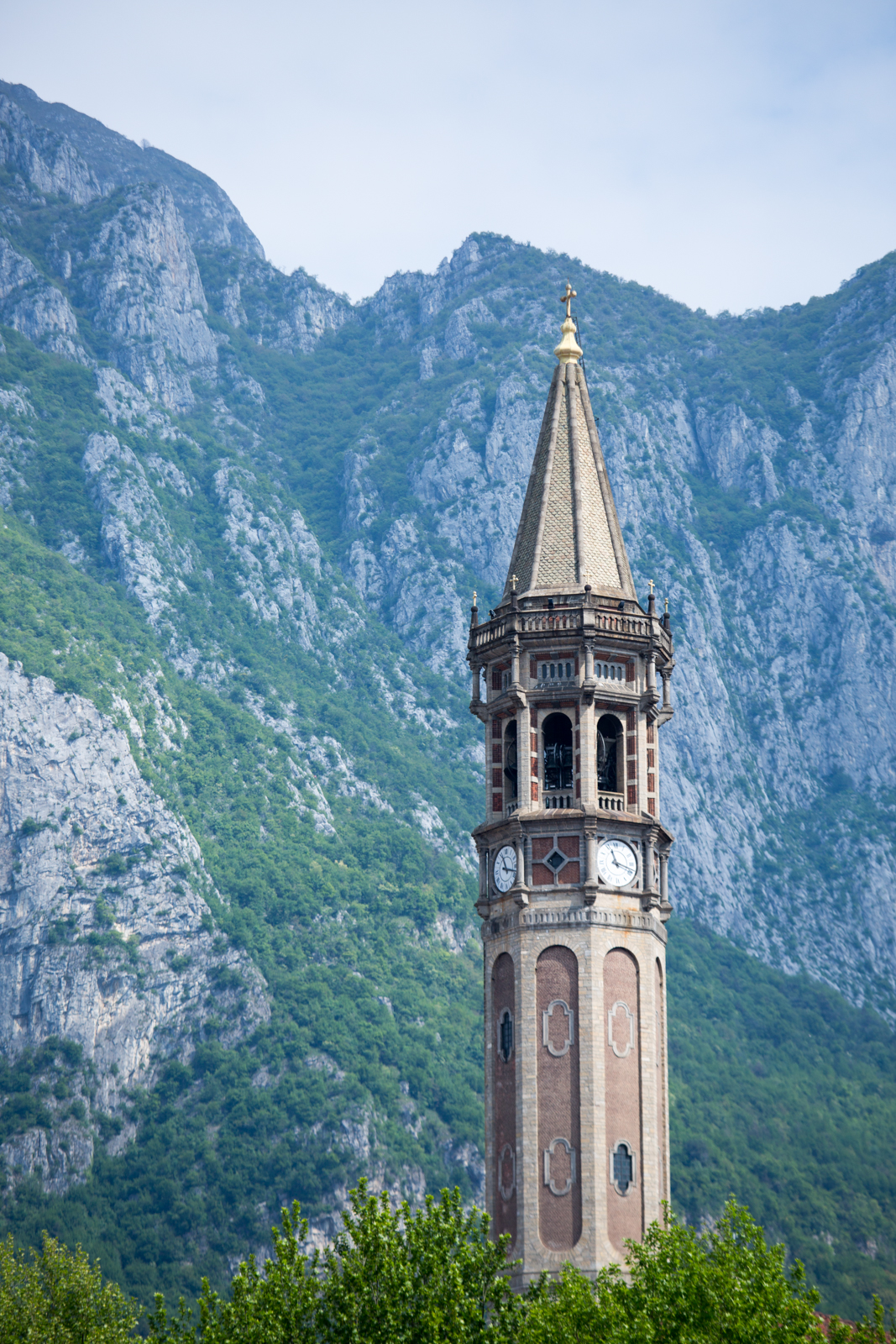 Golden Statue of Saint Nicholas
Along the lake side and just off the shore you'll find the golden statue of Saint Nicholas the patron saint of Lecco, sailors and boatmen. He lived between the thirteenth and fourteenth century and was said to protect Lecco's inhabitants from harm. The statue itself protrudes from the water and looks entirely gold in colour but it's actually bronze cover in gold leaf. You can also get a great view of the statue from a boat on the lake as well as down on the promenade.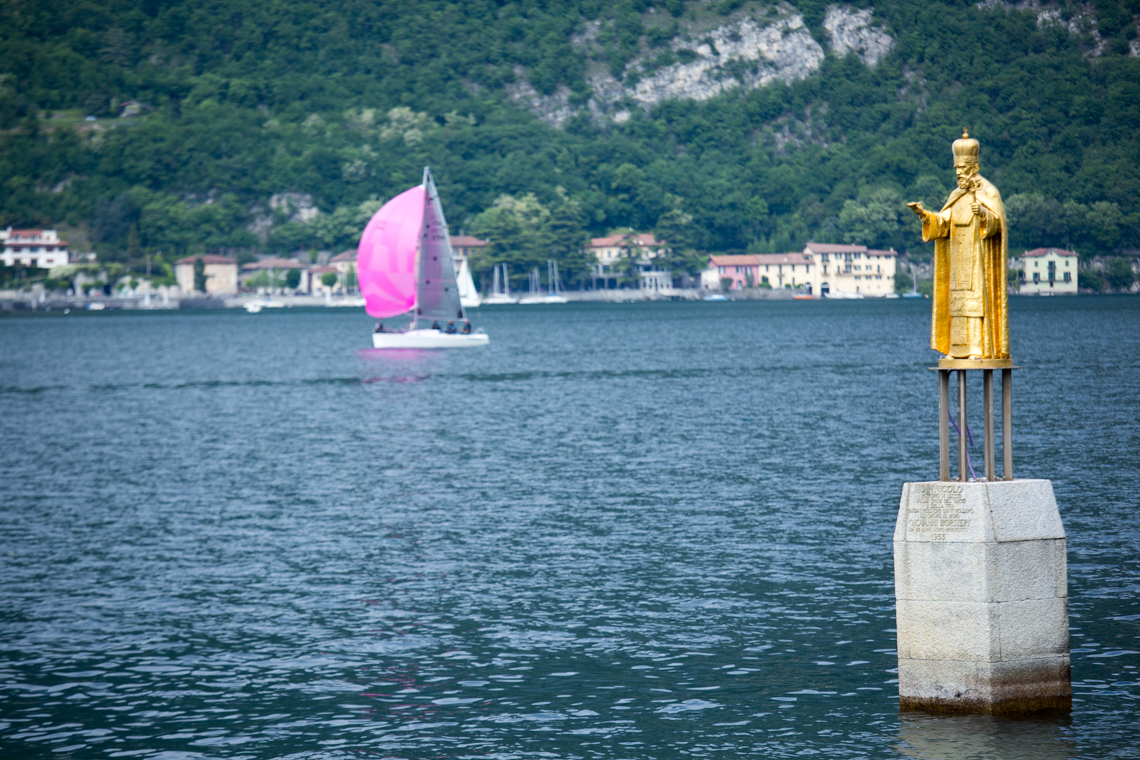 Lake Como
Down on Lecco's lakeside you'll find boats anchored in the bay, swans paddling in the water and a tree-lined promenade stretching along the shore-side giving you superb views across Lake Como. It's worth taking your time to stroll along the promenade and down to the Statue Saint Nicholas.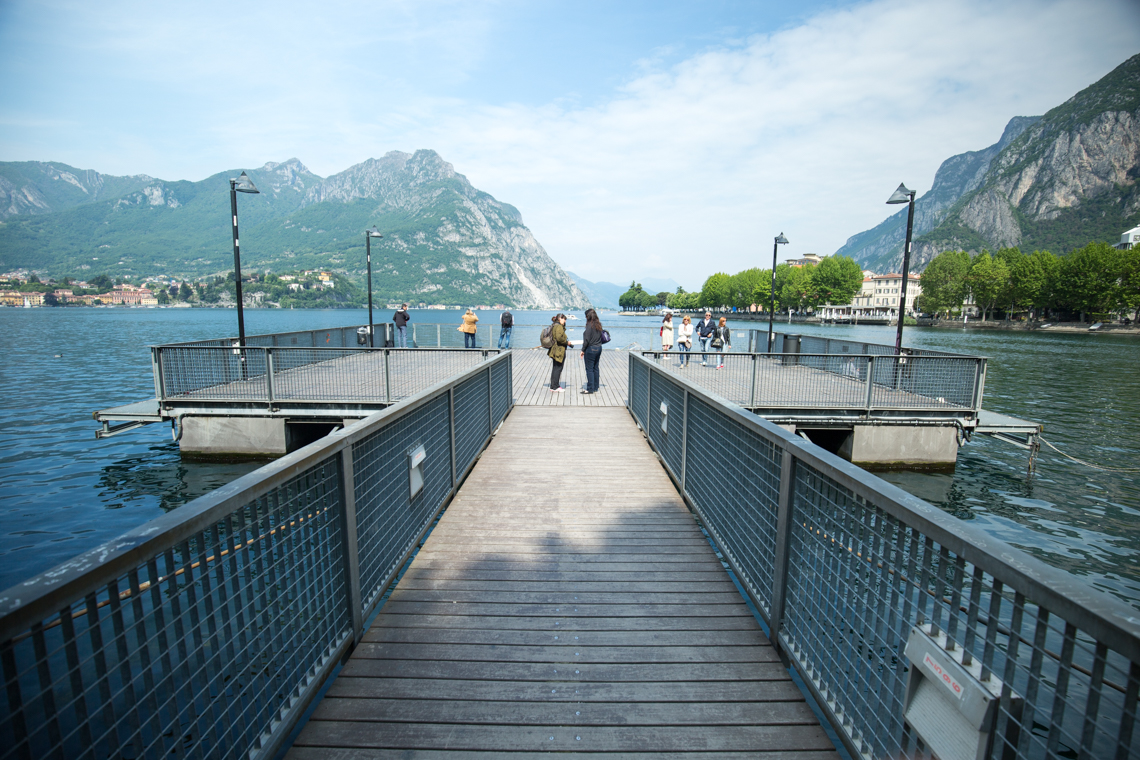 Waiting to board our boat Lake Como, Lecco
To get a different view of the city take a boat ride on the Lake Como. It's a scenic, relaxing journey as the lake is so still and you get a lovely view of Lecco, its Bell Tower and the mountains.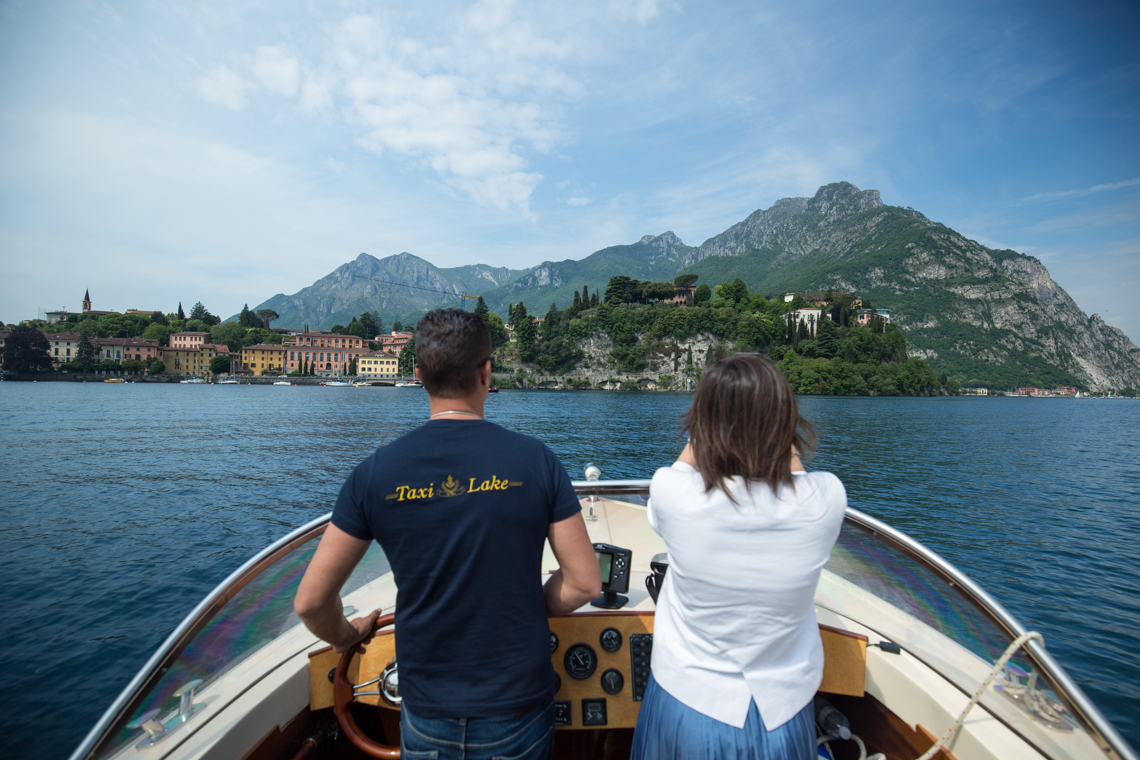 Boat trip from Lake Como from Lecco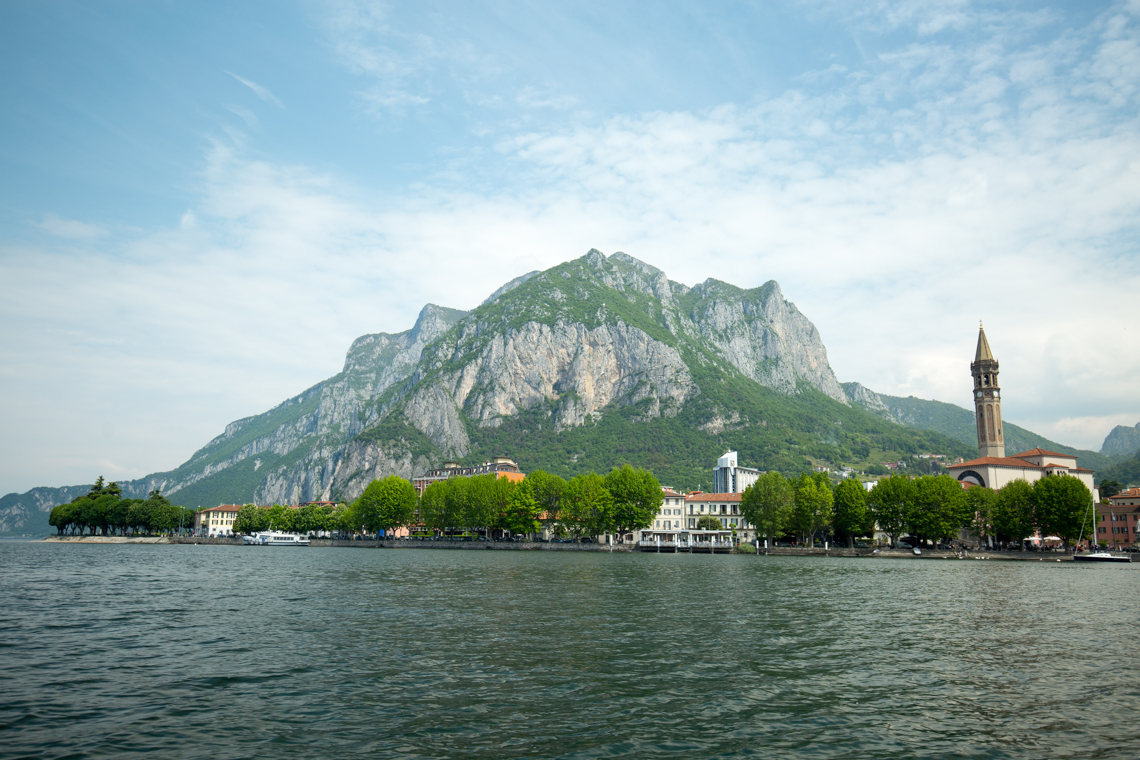 View Lecco from Lake Como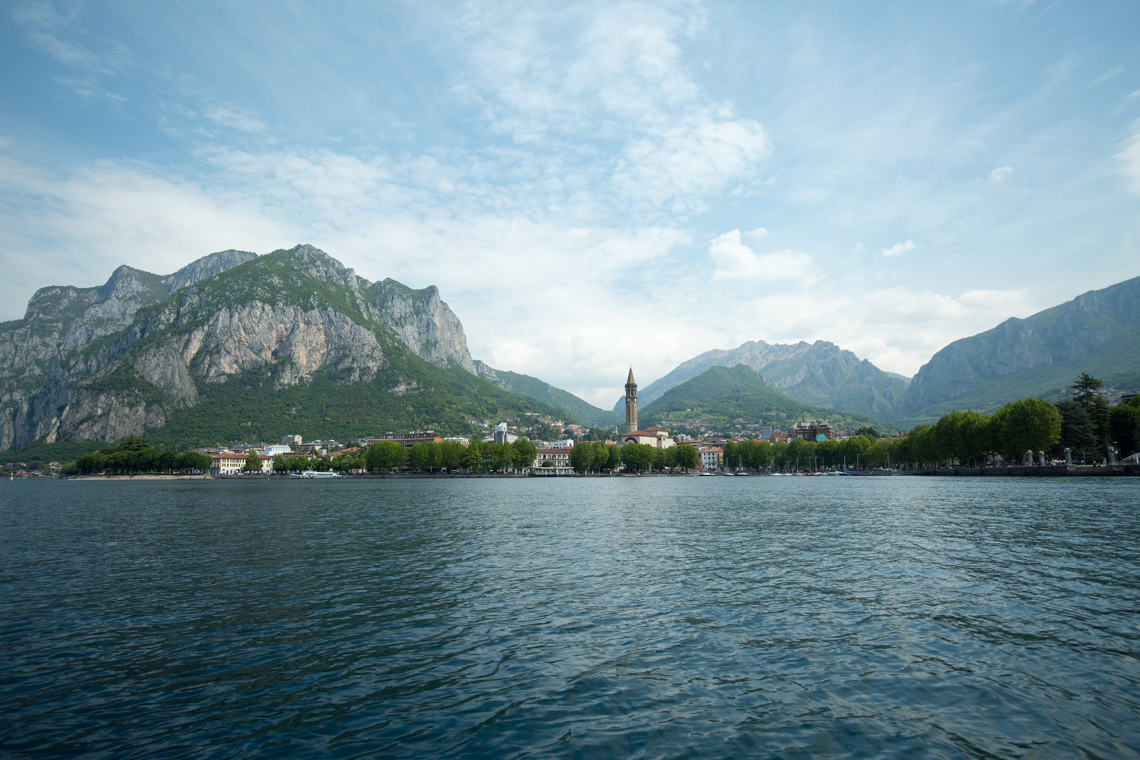 Mountains and Lecco, view from Lake Como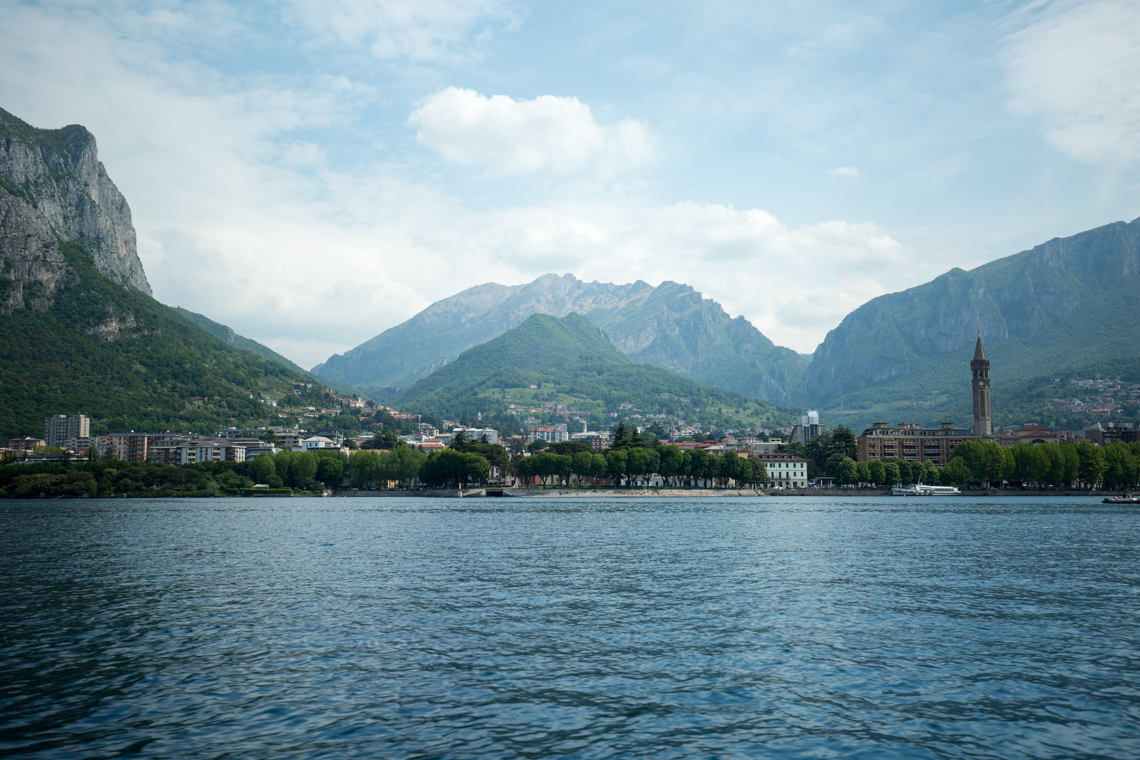 Looking back at Lecco from Lake Como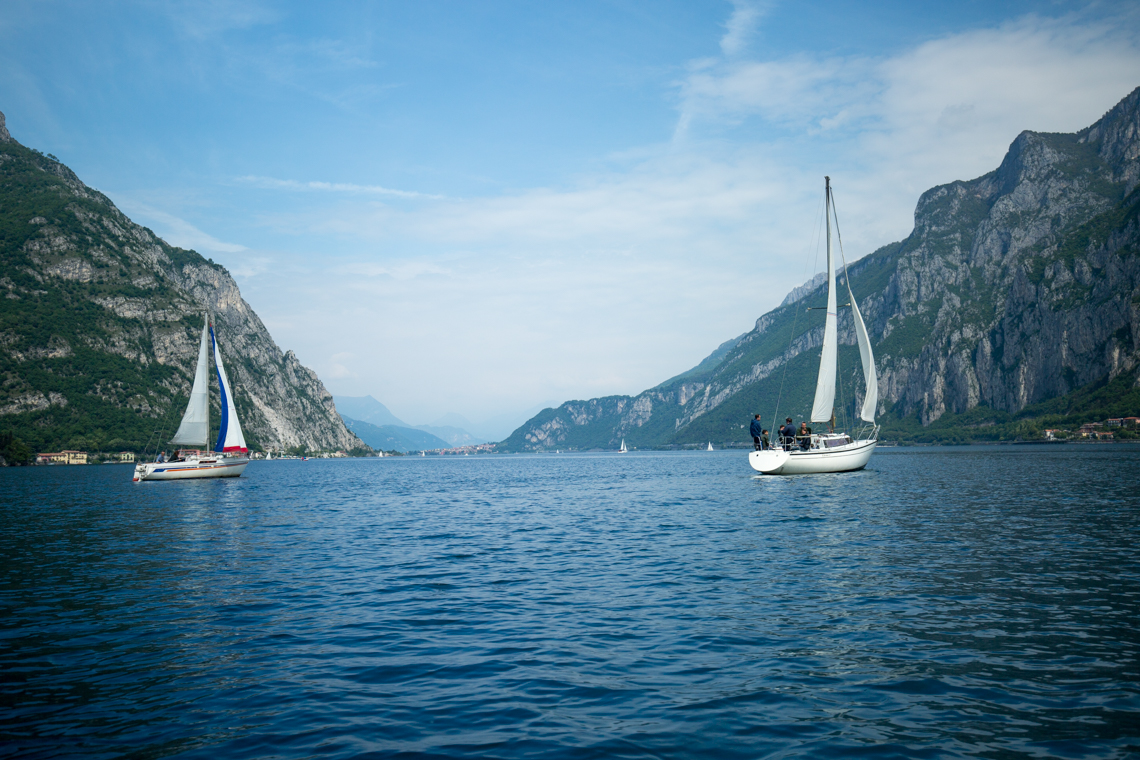 Sailing boats on Lake Como, Lecco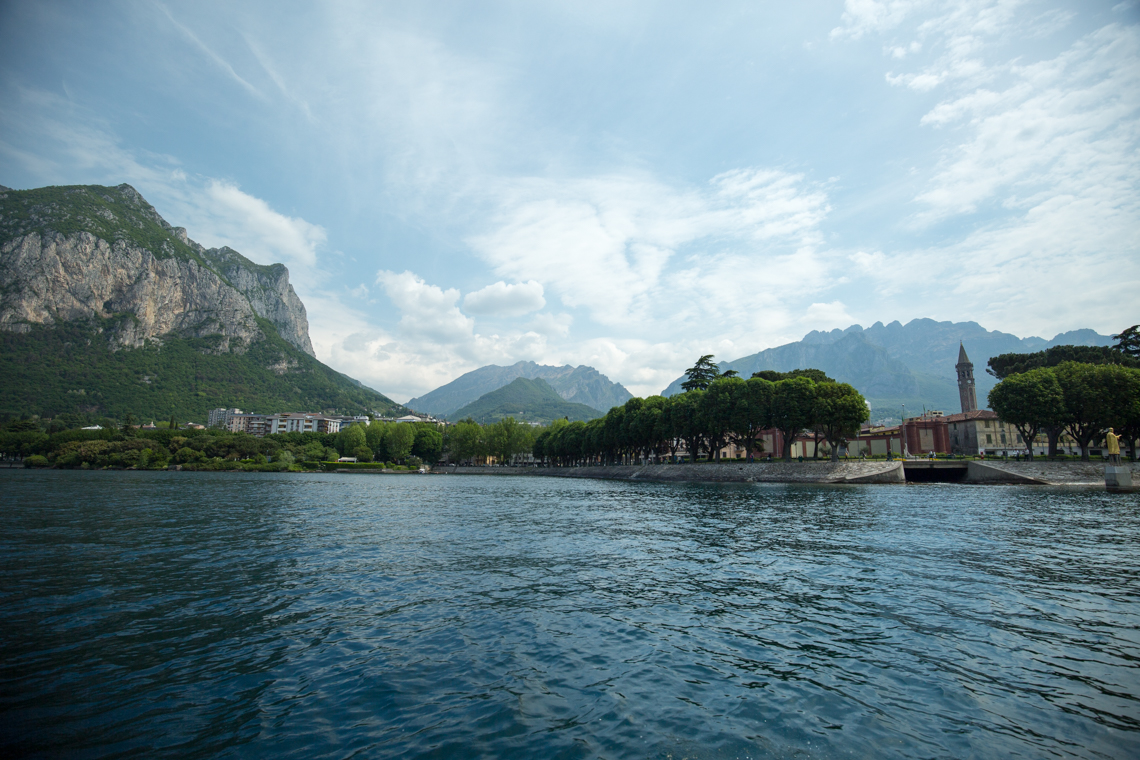 Lecco, Bell Tower and Golden Statue of Saint Nicholas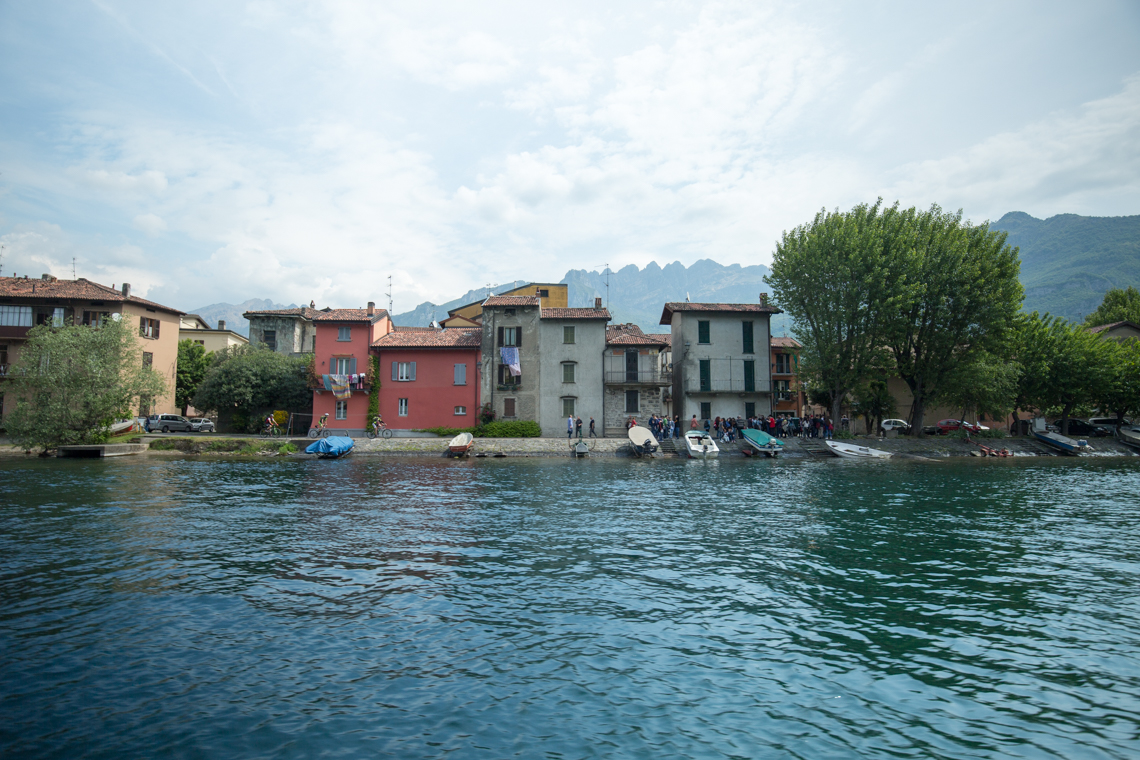 Small fishing town on Lake Como near Lecco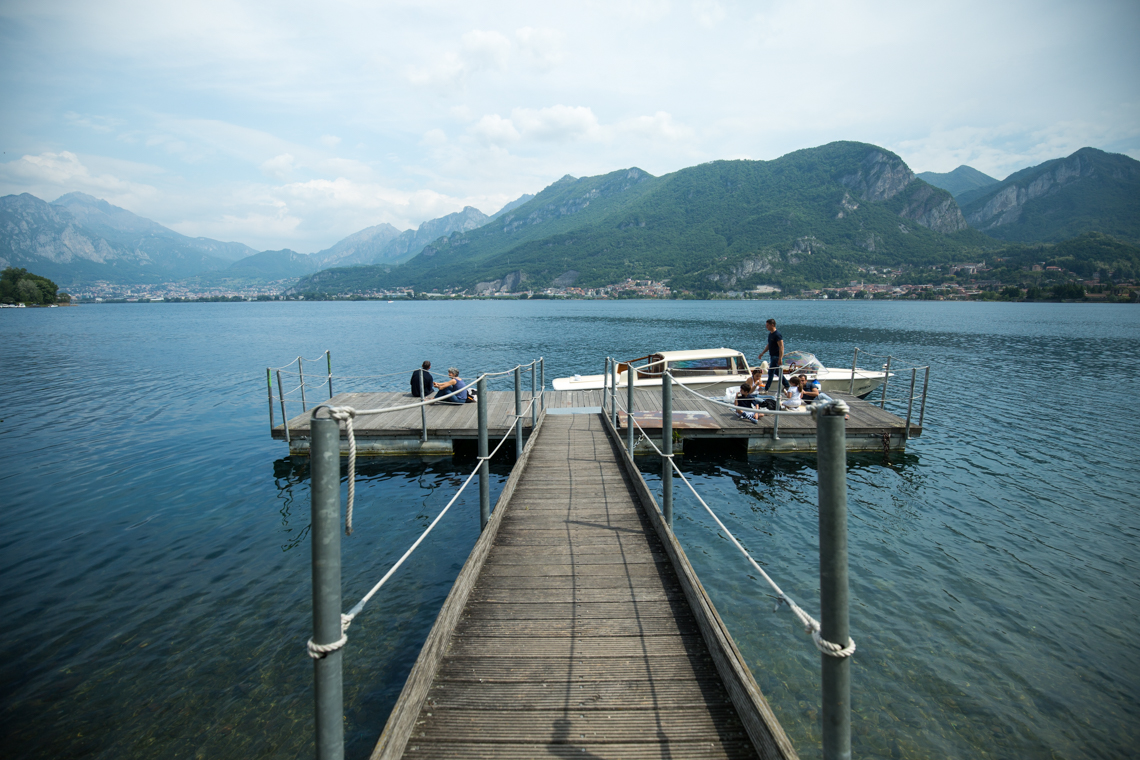 Pier on Lake Como
Cobbled Alleyways and Plazas
In Lecco itself there's plenty of narrow alleyways around piazza Roma to explore. Wandering these cobbled streets you may find yourself in one of the many peaceful little squares that are dotted around the area. We ate outside at Ristorante Azzeccagarbugli just off from Piazza XX Settembre, where I had possibly the best risotto I've ever had. Who knew something that looks quite ordinary can taste so good? Well, probably Italians. I'm certainly converted. The dish was Risotto Carnaroli in Parmesan style with Perch fillet and it really was a surprise.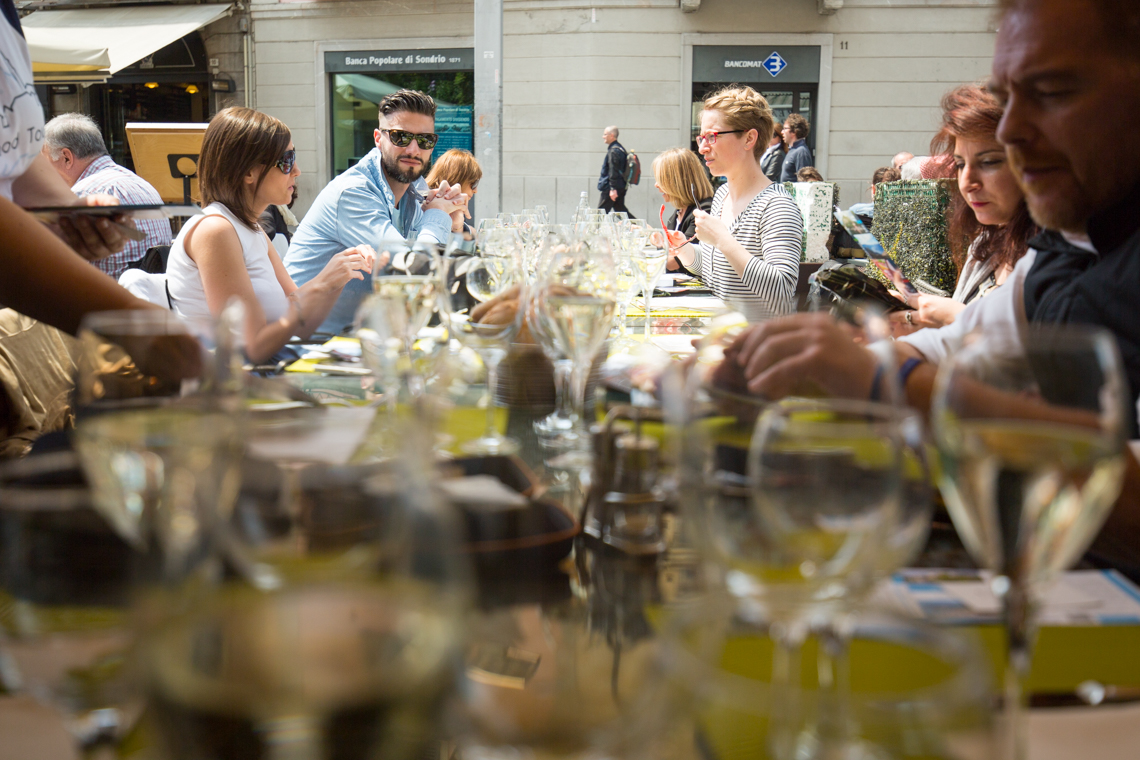 Lunch at Ristorante Azzeccagarbugli
Getting To Lecco
Airports: Bergamo Orio al Serio and Milano Linate are both around 40-50 minutes from Lecco by train.
Rail: The easiest way to get to Lecco is via train, it's around 40 minutes from Milano Centrale.
Disclosure – I travelled to Lake Como as part of the #InLombardia365 project managed by iAmbassador and in association with the Lombardia Tourism Board. Tourism Board. TravMonkey maintains full editorial control of the content published on this site.
The post 17 Photo Highlights From Lecco, Italy appeared first on TravMonkey.