I discovered something more effective than a super strong Italian double espresso to get me out of my early morning brain fog and slumber. To be honest, it actually felt more like I'd been hooked up to a drip full of the finest freshly brewed Italian coffee. "What is this legal high?" I hear you ask.
Well, it was barely after 9 am when I felt the rush of speeding through the leafy tree tops of Calgio, hanging from a harness, helmet on and zip lining in Como.
" I felt the rush of speeding through the leafy tree tops of Calgio"
If I had been feeling a little sleepy on the bus winding its way to the Jungle Raider Park Xtreme, I was soon jolted back to life. There were just a few tingling nerves from standing way up high in a tree over-looking a ravine, but nothing compared to the buzz of flying through the air hanging to a single metal cable. There's something about zip lining that makes it just the right level of fun and danger. It's a challenge, it gets the blood pumping and it gives you an adrenaline rush that leaves you with a huge grin on your face for the rest of the day.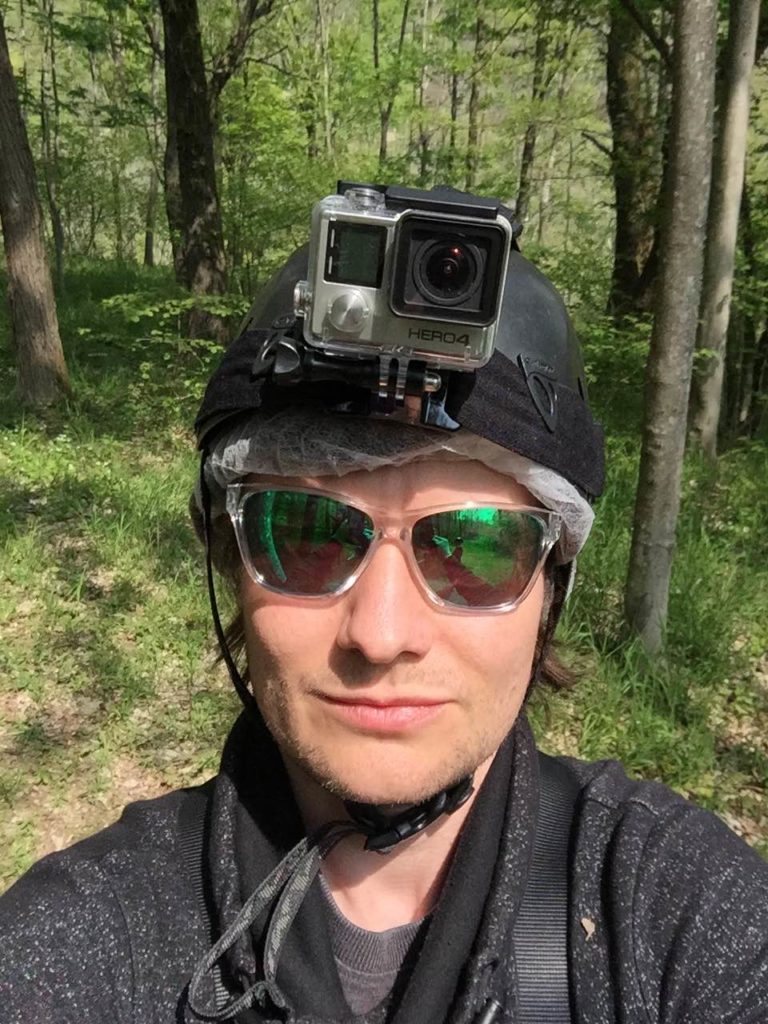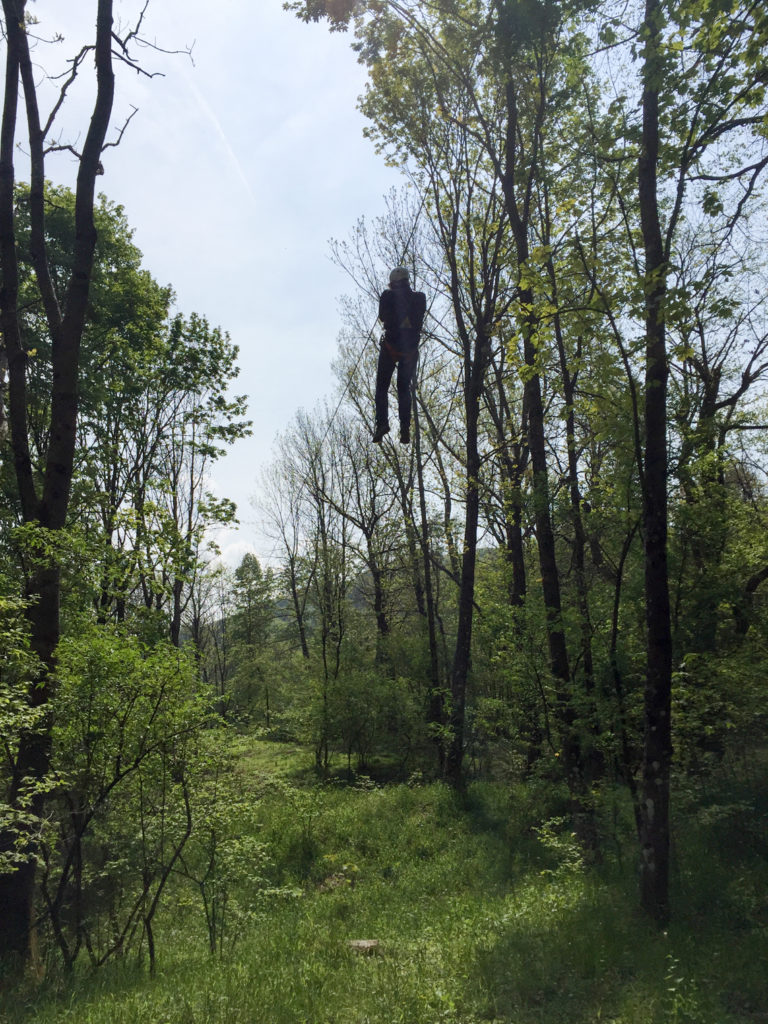 What is Jungle Raider Park Xtreme?
Jungle Raider Park Xtreme is the biggest adventure park in Lombardia, Italy's Northern region famed for it's dramatic landscapes. It consists of challenging zip lines, rope bridges, nets and other obstacles. The Extreme course is a great place for friends to go and challenge each other, it really does help with team building. If you're a family there's a special area designed just for you and the kids, so you can all experience a bit of adventure.
The course consists of a total of seven extreme zip lines and I got to tackle six of them.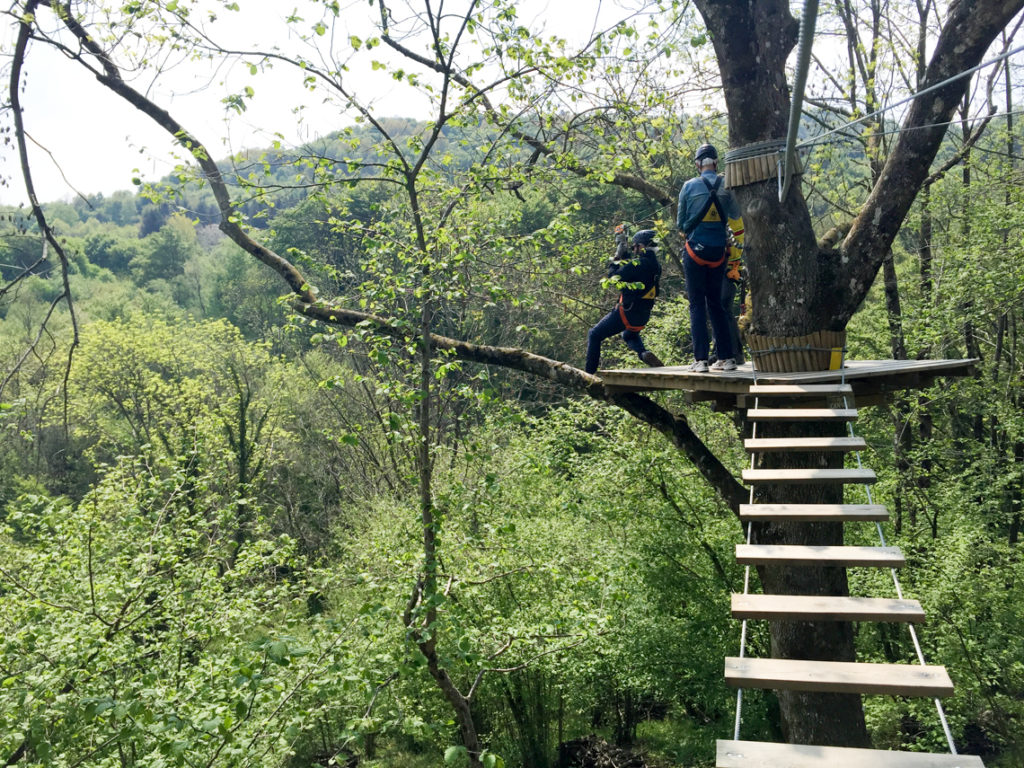 The Gear
Before throwing myself down a zip line I needed to get geared up. We pulled on full body harnesses, helmets and gloves. Each harness had one metal link with a small gap allowing you to feed in over parts of a metal wire that runs across parts of the zip lining course. This makes sure that when you're climbing up ladders, clambering across cargo nets or crossing rope bridges in the unlikely event that you fall, you'd be safely attached to a metal cable. Once all geared up, sunglasses on we were ready to tackle the first zip line.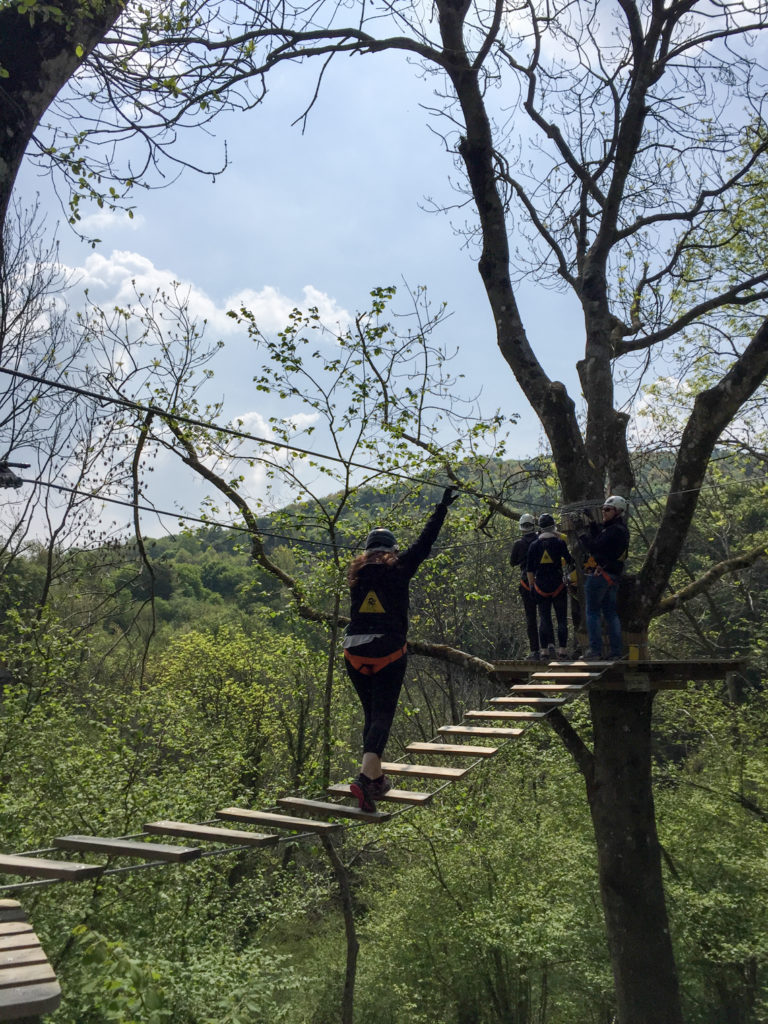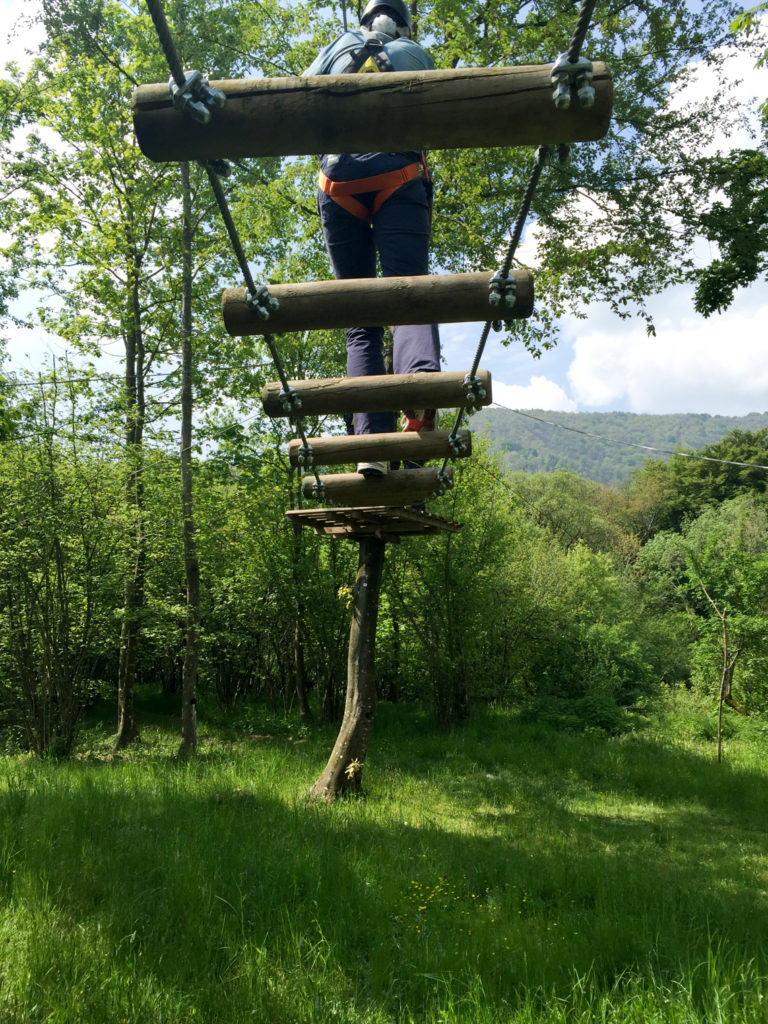 The MAXI Cableway
Our first zip line threw us in at the deep end at 130 meters long and 40 meters high it was going to be a wild ride. Flying over a ravine with my legs dangling, it's hard not to look down whilst the wind whistled past my ears. Just as I thought I was home and dry, expecting to land with two feet on a firm wooden platform I found myself scrambling to cling on to a cargo net hanging from the tree. Having been catapulted on the net, the next challenge was to cling on, get my footing and scramble my way to the bottom.
Cableway Canyon
The next section consisted of three separate zip lines, climbing trees, more cargo nets and rope ladder bridges spanning a distance of 450 meters. The challenge here was testing out your spiderman skills, climbing across nets and balancing your way across rope ladder bridges. It's here where you really find yourself surrounded by trees in the forest full of greenery, the trees leaves shading you from the sun.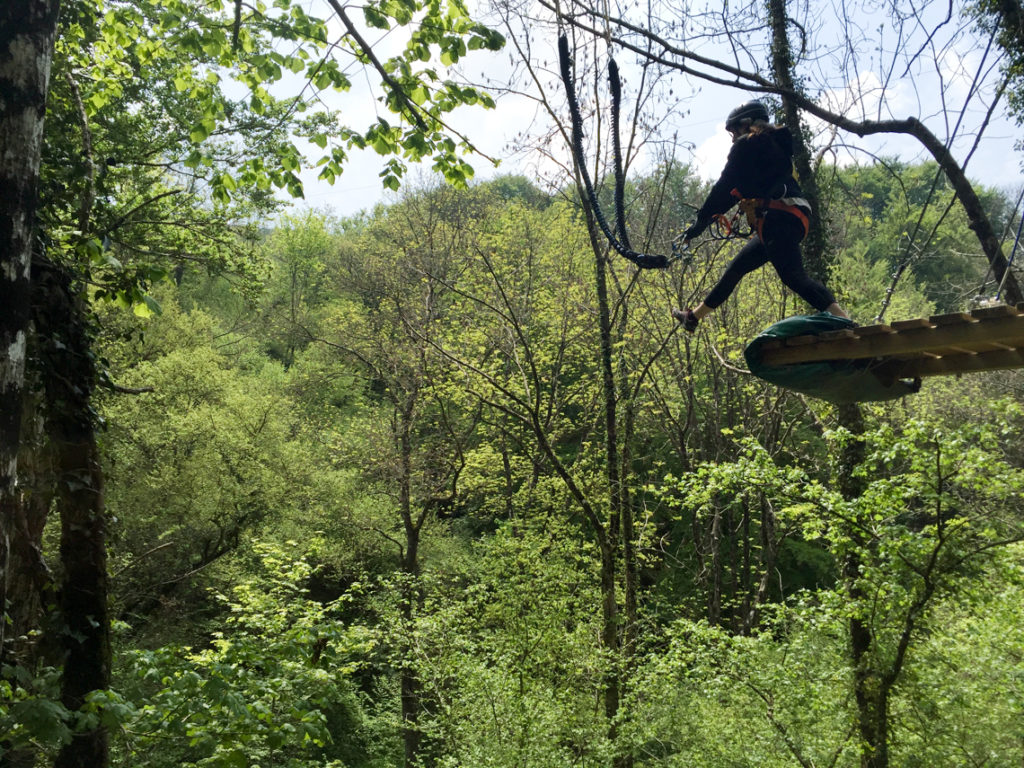 Zip Line Bungee
After the relative calm of zipping through the forest, the words "bungee jump" tells you there's another challenge just around the corner. The bungee jump zip line is similar to your standard zip line but starting with a 25 metre drop, followed by bouncing up a down for 50 metres until you reach the other side of the river. Once on the other side it's not over, there's a huge cargo net to grapple with and then a single cable to cross, with another higher up cable to hold on to. It looks like a challenge of both skill and bravery.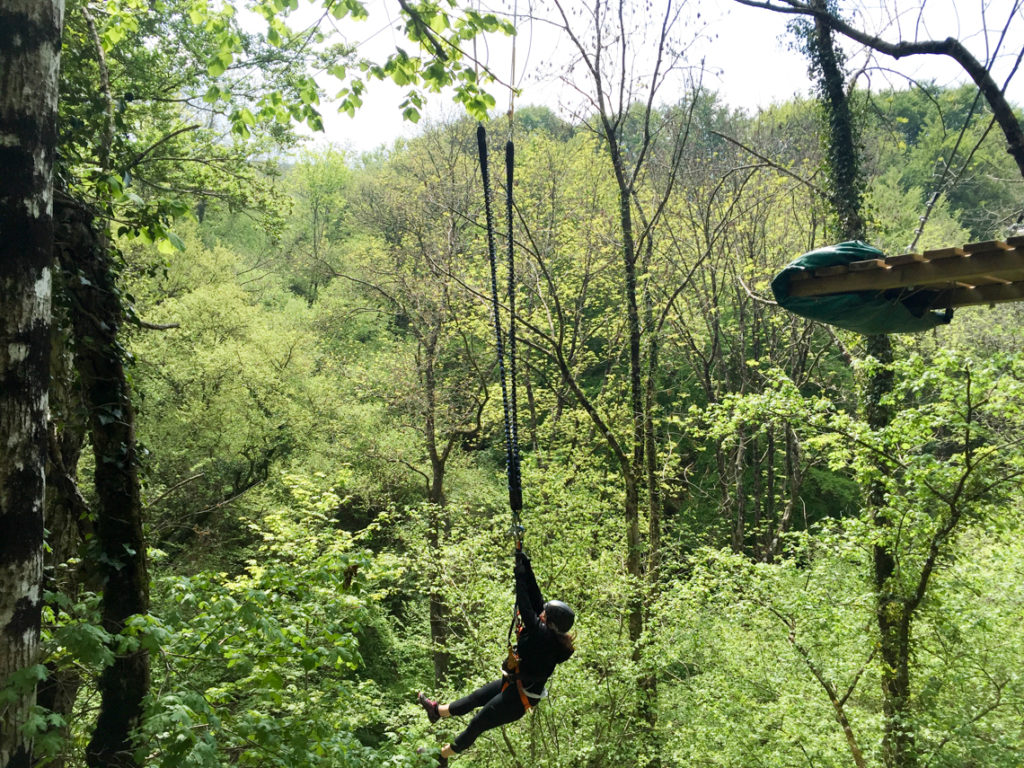 "…makes you wonder if you're just flying straight into a tree trunk!"
Vertical Zip Line
I opted for speed instead of the bungee with the vertical zip line, just next to the bungee jump. The fastest zip line on the whole course, the vertical zip line speeds you down a steep decent, along a stream at 50 km/hour. By this time, my confidence was sky high, having tackled four zip lines on the course already. The vertical zip line's initial drop provided a proper stomach churning feeling before it really picked up full speed. Zooming towards the bottom, with the finish line in sight, your speed doesn't decrease and makes you wonder whether you're just flying straight into a tree trunk! Thankfully at the last minute, my zip line hits the breaks and I was brought to a steady halt and able to climb onto the wooden platform.
Maxi Cableway 2.0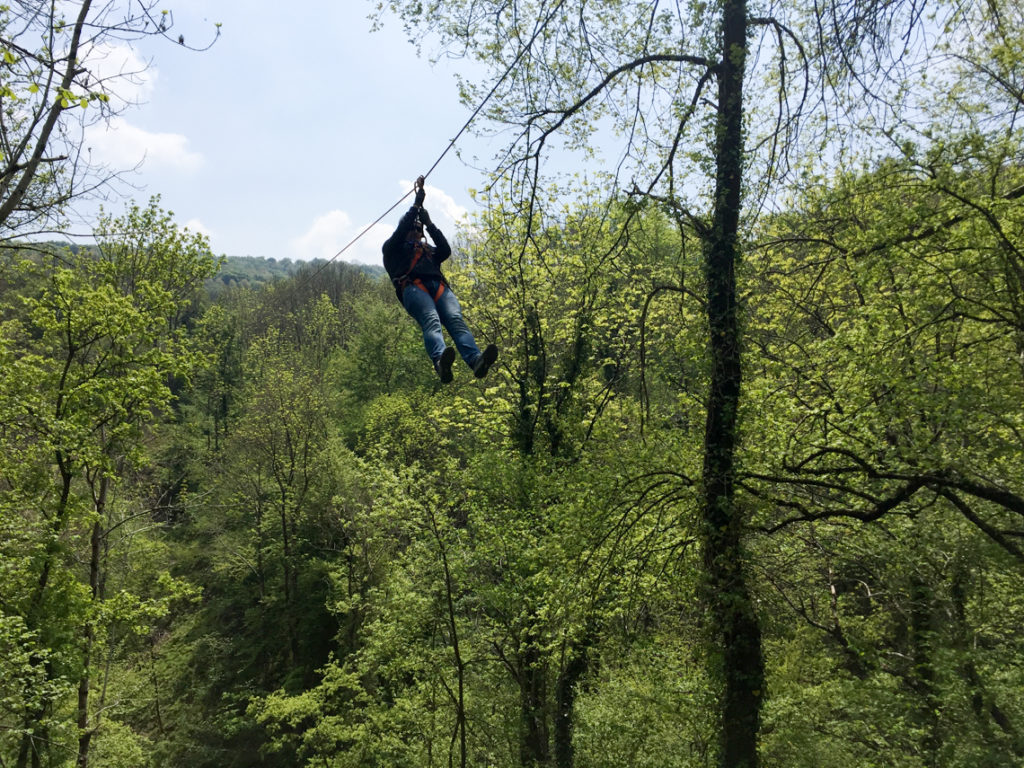 I felt pleased with myself after tackling the challenge of the Vertical Zip Line, I presumed that was it, time for lunch, right? Well, not quite. You can either walk back to the start or take the longest zip line on the route back, across a total of 250 metres. After so many zip lines, you definitely get into a rhythm. Anyway, it's so much easier and much more fun than than walking! Reaching the other side I'm faced with another cargo net, but compared to my first attempt this ones a breeze. Landing on the net I clung on with my gloved hands, waiting until our guide unclips me from the line and I'm able to scramble down to the forest floor. The course was complete!
It was finally time for lunch and I'd certainly worked up an appetite… one things for sure, there was no need for a post lunch espresso!
Useful Information
Website: Jungle Raider Park Xtreme
Price: Entrance to the adventure park Jungle Raider Xtreme is for adults and children over 40 kg. You have to book in advance.
It costs 25 Euros for groups of four or more.
For adults with children it costs 30 Euros.
There's more detailed information on the Jungle Raider website.
What To Wear: You're going to be climbing trees, ladders and cargo nets so dress appropriately. Combats, trekking trainers and some sunglasses are recommended. You'll be given a hair net and helmet, harness and gloves.
Where: Jungle Raider Park Xtreme, Viale Campoè, Caglio (CO)
Disclosure – I travelled to Lake Como as part of the #InLambordia365 project managed by iambassador and in association with the Lago di Como. Tourism Board. TravMonkey maintains full editorial control of the content published on this site.
The post Legal High You Have To Try – Zip Lining in Como appeared first on TravMonkey.